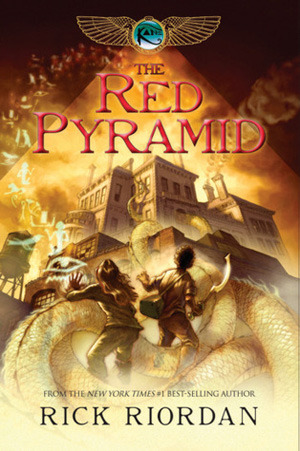 Tittel:
The Red Pyramid
Forfatter:
Rick Riordan
Serie:
The Kane Chronicles#1
Sider:
514
Sjanger:
Fantasy
Utgivelsesår:
2010
Terningkast:
#5
Since his mother's death six years ago, Carter Kane has been living out of a suitcase, traveling the globe with his father, the brilliant Egyptologist Dr. Julius Kane. But while Carter's been homeschooled, his younger sister, Sadie, has been living with their grandparents in London. Sadie has just what Carter wants-school friends and a chance at a "normal" life. But Carter has just what Sadie longs for-time with their father. After six years of living apart, the siblings have almost nothing in common. Until now.
On Christmas Eve, Sadie and Carter are reunited when their father brings them to the British Museum, with a promise that he's going to "make things right." But all does not go according to plan: Carter and Sadie watch as Julius summons a mysterious figure, who quickly banishes their father and causes a fiery explosion.
Soon, Sadie and Carter discover that the gods of Egypt are waking, and the worst of them —Set— has his sights on the Kanes. To stop him, the siblings embark on a dangerous journey across the globe - a quest that brings them ever closer to the truth about their family and their links to a secret order that has existed since the time of the pharaohs.
Jeg synes:
Jeg har lenge hatt lyst til å lese
The Red Pyramid
, og siden jeg har hatt serien stående i hylla en stund, tenkte jeg det var tid å begynne på serien. Det angrer jeg ikke på i det hele tatt!
Rick Riordan har tidligere også skrevet om gresk mytologi:
Percy Jackson
-serien. Siden jeg elsker de bøkene, tenkte jeg at jeg kom til å elske disse også. Jeg likte
The Red Pyramid
veldig godt, men det var noen småting som irriterte meg her og der. Men jeg skal komme tilbake til det senere.
Grunnen til jeg plukket opp denne boka var mest fordi jeg hadde lyst til å le og lese noe enkelt. Jeg elsker skrivestilen til Rick Riordan, fordi han skriver med humor og ofte tar man seg selv i å le høyt. Det var ikke vanskelig å leve seg inn i historien og jeg ville alltid vite hva som kom til å skje videre.
Noe annet som også er utrolig bra med stort sett alle bøkene Rick Riordan har skrevet er måten han fletter sammen mytologi og virkelighet. Han gjør læring interessant, og jeg har funnet ut masse om mytologi bare av å lese bøkene hans.
Men, tilbake til det negativet. Det er ikke stort altså, men det er bare noe som irriterte meg litt i løpet av boka. Karakterene. De minner meg enormt mye om karakterene fra
Percy Jackson
-serien. F.eks Percy. Både Carter, Sadie og Percy snakker på samme måte og tenker på samme måte. De kommer med de samme spydige og "sassy" kommentarene. Jeg synes at de minner for mye på hverandre.
Og boka har to synsvinkler: Carter og Sadie. Og jeg kunne ikke skille dem fra hverandre! Det sier litt. . .
Bortsett fra det, var dette akkurat den type boka jeg hadde lyst til å lese. En bok fylt med humor og action. Jeg anbefaler virkelig boka hvis du liker resten av Rick Riordan's bøker og hvis du elsker egyptisk mytologi er dette boka for deg!
Bildet ble hentet her:
https://d.gr-assets.com/books/1366227978l/7090447.jpg