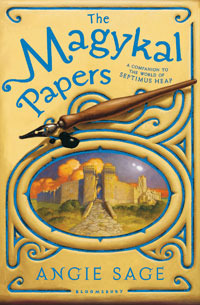 Tittel:
The Magykal Papers
Forfatter:
Angie Sage
Serie:
Septimus Heap#7.5
Sider:
165
Sjanger:
Fantasy
Terningkast:
#4
Enter the world of Septimus Heap with this incredible collection of previously unpublished papers.
Includes:
¤ The Private Journals of Septimus
¤ Alther Mella's Guide to Being Dead
¤ Sarah Heap's Recipe for Sautéed Frogs
¤ Notable Extraordinary Wizards throughout History
¤ How to Behave when Visiting the Wizard Tower
¤ Lots of Other Brilliant Stuff
Jeg synes:
Dette er en bok som inneholder mange rare og morsomme fakta om Septimus Heap universet. Alt fra en guide om hvordan å være et spøkelset til en rundtur rundt borgen.
Det var morsomt å lese om Septimus Heap universet igjen, men det var ikke alt som var like interessant. . .
Jeg likte veldig godt å lese Septimus' karakterkort, og dronninger og ypperstemagikere gjennom tidene, men det var ikke så spennende å lese om borgen og hvordan den ble til.
Jeg elsker Septimus Heap-serien og det var veldig interessant å lese, men alt var ikke like interessant. Boka har bilder, og det er mange morsomme små tekster om Septimus og vennene hans, og det gjorde at jeg likte boka veldig godt. Jeg kommer definitivt til å bla igjennom boka noen ganger opp gjennom tidene:)
Det er også litt trist, nå som jeg tenker over det. . . Siste boka som jeg kan lese om Septimus Heap er over! Det er derfor jeg synes det er fint å ha denne boka. Man kan bla igjennom den og lese noen små tekster, bare for å komme tilbake i Septimus' sin verden! Det er hyggelig å se på bildene i blant:)
Septimus Heap serien anbefales på det sterkeste!
Bildet ble hentet her:
https://d.gr-assets.com/books/1342870739l/11061970.jpg